Many members like to receive email alerts from Litopia when something happens in the Colony. For example, you can choose to be alerted by email when someone send you a new conversation message here.
You can tightly control the type of emails you receive in your
Account Preferences here
. We suggest you always tick the box that says "
Receive news and update emails
" since this is the main way we communicate important information to our members.
Please also remember that we provide
Push Notifications
for members, too – they're those little boxes that pop-up in the corner of your browser to tell you when something happens in the Colony. You can finely-tune what sort of alerts you choose to receive, and how you receive them.
"Why Am I Not Receiving Emails?"
Sometimes, you may find that you're expecting to receive an email from the Colony, but it doesn't turn up in your inbox. This is almost always caused by your email provider wrongly classifying our emails as spam! This is a big problem with AOL/Yahoo in particular
The solution is to "whitelist" our email address so that your email provider no longer thinks it's spam. This process varies between email providers, but the basic principle is the same. Here is the way to do it if you're email is hosted by Gmail:
1. Open Gmail. In the upper-right corner, select the Settings (gear) icon. From the menu, choose See All Settings:

2. Select Filters and Blocked Addresses:

3. Select
Create a new filter
. If you already have many filters, you'll have to scroll down to find this link: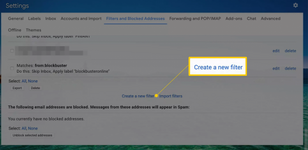 4. A dialog box appears. In the
From
field, type
@litopia.com
At the bottom of the dialog box, click on Create filter.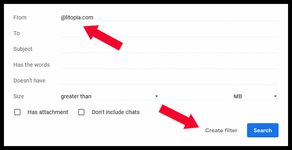 5. On the next screen, tell Gmail what to do with the email address or domain you just indicated. To do so, select
Never send it to Spam
. To finish the process, select
Create filter
.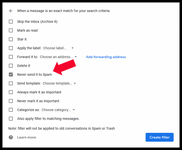 That's the procedure for Gmail - other email services will differ in the way they whitelist addresses. Some email providers may not let you whitelist an entire domain (which is what the "@litopia") example does above). In which case, please whitelist our main mailing address, which is
admin@litopia.com