If you regularly access the Colony from your mobile device, you may find it much easier to install our web app. It looks and acts as any other app on your phone or tablet, and means you don't have to bother with bookmarks. It's a much nicer experience for you.
Unfortunately, as with Litopia's push notifications, our web app is
only
available on devices and browsers that fully support something called the PWA (Progressive Web App) standard. This currently
excludes
Safari on macOS and any iOS-based browser.
When browsing with Chrome on desktop or Android, the app can be installed via the address bar on both mobile and desktop devices. This is how to do it.
Go to the Colony's website and open the main menu on your phone - it will look like this: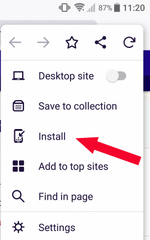 Click "Install..." and you're done!
Once the app is installed, it is readily available in exactly the same way as a native app. On mobile devices, that means it can be opened via an icon on the home screen. On desktop devices, it can be opened by searching your system or even pinning the app to your taskbar or dock.
Last edited: