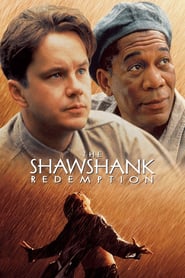 Title:
The Shawshank Redemption
Tagline:
Fear can hold you prisoner. Hope can set you free.
Genre:
Drama, Crime
Director:
Frank Darabont
Cast:
Tim Robbins, Morgan Freeman, Bob Gunton, Clancy Brown, Mark Rolston, James Whitmore, Gil Bellows, William Sadler, Jeffrey DeMunn, Larry Brandenburg, Neil Giuntoli, Brian Libby, David Proval, Joseph Ragno, Jude Ciccolella, Paul McCrane, Renee Blaine, Morgan Lund, Scott Mann, John Horton, Gordon Greene, Alfonso Freeman, V.J. Foster, Frank Medrano, Mack Miles, Gary Lee Davis, Neil Summers, Ned Bellamy, Brian Delate, Don McManus, Dorothy Silver, Dion Anderson, Robert Haley, Bill Bolender, Claire Slemmer, John R. Woodward, Rohn Thomas, Brian Brophy, Ken Magee, James Babson, Fred Culbertson, Alonzo F. Jones, Sergio Kato, Philip Ettington
Release:
1994-09-23
Runtime:
142
Plot:
Framed in the 1940s for the double murder of his wife and her lover, upstanding banker Andy Dufresne begins a new life at the Shawshank prison, where he puts his accounting skills to work for an amoral warden. During his long stretch in prison, Dufresne comes to be admired by the other inmates -- including an older prisoner named Red -- for his integrity and unquenchable sense of hope.
Not a review, but a study in motif planning (for stories). I've seen a lot of writers disparage the concept of motif (and symbols), but this movie uses one that highlights how to give a sense of something under the pictures that can really grab the audience.
Which motif?
Freedom represented by other things. Birds, which come through with the use of feathers, Jake, flying, soaring, music - even the last minute has the freedom of gulls flying over the ocean with no memory.
Music and flying - in this movie, there is a relationship. It shows Red without any hope, not yet willing to bring hope into his life - represented by playing the harmonica, a memory of his past as a free man. The attempt while alone to try again, a single note, but easily given up on. It only fails by not having the final of the three-step process to show the change.
The build-up is amazing when you look for it. Jake leads into other things (can't remember them all; I've only seen the movie about 15 times), caged creatures, soaring, flying, easy time while the sensation of music enables the mind to be free, pigeons, bars (in the half-way house, too; another cage), and the crickets in the field after Red finds his moment of hope - but the crickets are a section of the motif that shows a not-quite-there moment. Crickets not winged yet, jumping and using the wind, not in the mature stage - hope has opened up, but still held in check. Then the seagulls at the end, the sounds they make, the open spaces, the wide expanse with no bars, no expectations.
This is an excellent movie to watch to find how to make motifs work as the undercurrent to the story and the mood of internal emotions. The original story didn't have most of the motif-to-mood pieces, and it suffered for a continuity problem, but still good enough to inspire this movie which did bring out the mood and tone to good effect.